When Mr. Pionkowski resigned in April with the public statement 'for health reasons,' didn't anyone question why he severed his financial ties at that time?
Is everyone so IN LOVE with the Slot Barn vultures that they cease questioning?
Why was no question raised previously?
And still no one is asking about the BAFFLING RAFFLE conducted for years without a permit, only offering an opportunity to BET on the Kentucky Derby that certainly seems to violate the state's statute? That BAFFLING RAFFLE was widely publicized, conducted interstate and with the knowledge of 'the partners.'
Questions loom over top Plainridge officials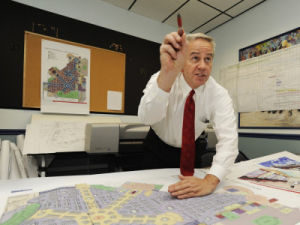 Gary Piontkowski talks about plans for Plainridge
that are tied to pending action at the Statehouse.
(Staff file photo by Martin Gavin)
Posted: Thursday, July 25, 2013 12:00 am
BY EMILY O'DONNELL SUN CHRONICLE STAFF
The Sun Chronicle
BOSTON - Financial questions have suddenly formed over the former president and chief financial officer of Plainridge Racecourse, potentially jeopardizing the Plainville racetrack's bid to become the winner of the state's only slot machine parlor license.
Plainridge CFO Tim Petersen has resigned, the state's gaming commission learned this morning during a hearing on the track's viability to run a gambling operation.





That followed today's revelation that former Plainridge President Gary Piontkowski resigned earlier this year after allegedly pocketing cash from the company's money room.

That information was included in an investigation by the commission's investigations and enforcement division, according to a report in today's Boston Globe.

Investigations and enforcement division director Karen Wells said at the hearing Petersen's absence is "troubling" and "raises grievous concerns" about Petersen's financial practices while with the company.

Plainridge officials made clear that neither Piontkowski nor Petersen represent the racecourse, and maintain that their case for the slots license remains strong.

Grogan said in a prepared statement: "The rigorous review of our application by the I.E.B. has made the Plainridge Racecourse an even stronger applicant. We remain very excited by our application's prospects."

Piontkowski made personal cash withdrawals from the struggling track's money room "almost on a daily basis" for years, according to the Globe report.

At the time of Piontkowski's departure, Plainridge suggested he had retired and sold his stake in the venture due to health concerns. But a report from the gambling commission's investigative arm revealed that - after meeting with investigators and reviewing Piontkowski's conduct - the track's majority owners "decided that it was not in the company's best interest to have Piontkowski remain as president," according to a copy of the report obtained by the Globe.



Investigators were unable to confirm whether the track's majority partners had knowingly approved the withdrawals, the report states.




The hearing is continuing this afternoon. The Sun Chronicle is tweeting from the scene and will have a full report here and in Friday's print edition.
http://www.thesunchronicle.com/plainville/questions-loom-over-top-plainridge-officials/article_e3fd3e38-c2e9-5058-a65b-e85134a5a0a1.html