From our friends at:
Gambling foes target casinos
Signatures collected in effort to get state law repealed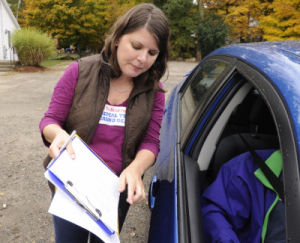 Anti Casino Drive
Erin Earnst of Foxboro on Saturday collects a signature for her drive-up anti casino petition effort in the parking lot of the Union Church in Foxboro. (Staff photo by Martin Gavin)
Posted: Sunday, October 6, 2013 2:16 am
BY KASSMIN WILLIAMS FOR THE SUN CHRONICLE
The Repeal the Casino Deal Coalition is an organization opposed to the law that legalized three casinos and one slot parlor in Massachusetts.
The petition requests that a question be placed on the November 2014 ballot to let state residents vote on the law, which allows three casinos and one slot parlor in Massachusetts.
Saturday wasn't the first time the Earnsts have connected with others to fight against allowing gambling and casinos in the state.
In 2011, the Earnsts and other Foxboro residents formed a group called "No Foxboro Casino" that launched a Facebook page, "No Fox-Vegas," to petition opposition to a proposal from Las Vegas developer Steve Wynn and The Kraft Group to build a $1 billion resort across from Gillette Stadium.
In May 2012, the Kraft Group and Wynn Resorts announced they would withdraw the casino proposal after voters rejected candidates for the board of selectmen who favored the casino proposal.
The town now is among several in the area that has been declared a surrounding community, making it eligible for mitigation funds in the event that Penn National is awarded the state's lone slots parlor at Plainridge Racecourse in nearby Plainville.
On Saturday, the Earnsts spent more than two hours collecting 50 signatures, bringing them halfway to their weekend goal of 100. The Earnsts also handed out 210 signature sheets during the event to allow signers to collect signatures on their own.
Erin Earnst said she stumbled upon Repeal the Casino Deal while surfing the Web and decided to get involved.
"It's an important issue for our states, and I think the way it came about with our Legislature not letting citizens vote to decide if we wanted casinos in our state just isn't right," she said.
"The social problems that come along with the expansion of gambling are extremely concerning to me as a parent and as a citizen of our state, and I'm not interested in seeing those kinds of issues being brought here."
For Saturday's effort, Earnst figured that a drive-through-styled signature solicitation would work best to attract those attending weekend errands.
"Drive-through signature drives have been held in other parts of the country and have been successful, I guess, so we thought it was a great way to kick off this initiative," she said.
"As people are out and about and heading to soccer games, football practice and baseball, it's just a way to sign the petition pick up more information and then bring it with them as they go throughout their day."
While the drive-through offered convenience for a busy Saturday, for some who attended the event, the convenience factor didn't matter.
"It really wasn't the convenience. I would've signed it no matter where it was, but hopefully if it makes it easier for people on a Saturday when everyone's so busy to come in and out," said Foxboro Selectman James Devellis. "I think it's good idea."
Erin Earnst's experience with No Foxboro Casino provided some knowledge on the impact of casinos.
"There was a great video put together by the No Foxboro Casino Group, where they went down to Connecticut and talked to people there about what happened to the towns in Connecticut when Mohegan Sun and Foxwoods came in and so just from hearing those stories it's pretty apparent that it didn't seem to be a good fit for our state," she said.
The Earnsts will be collecting signatures throughout the month, and plan on holding the next signature collection from 8 to 10:30 a.m. Saturday, Oct. 19, also at the Union Church of South Foxboro.
http://www.thesunchronicle.com/news/local_news/gambling-foes-target-casinos/article_bbfec10c-2d68-572d-851c-b31d3ef2b73b.html