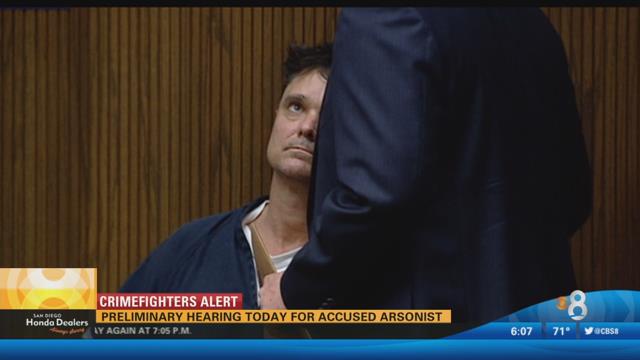 Informant: Accused arsonist 'proud' of his crimes
|
8:47 a.m.
July 29, 2016
EL CAJON
— A jail inmate serving a sentence for a drug-related conviction testified Thursday that a Poway man accused of setting several brush fires in 2014 and 2015 bragged about his crimes and said he had hoped to burn down Indian casinos.
The 54-year-old inmate, Richard Culver, took the stand during the El Cajon Superior Court trial of Jonathan Cohen, saying he and Cohen have known each other for several years — linked mostly by their mutual drug use. He said when he was taken into custody last summer he was by chance placed in the same jail module as Cohen.
"He was laughing about (the arson case)," Culver said. "He said Cal Fire was stupid and they would never get enough evidence against him."
The inmate said Cohen told him he "wanted to torch" all the gambling businesses because despite a good income he earned as a boat mechanic "he spent every penny at the casinos."
He said Cohen told him the targets were the Barona Casino & Resort in Lakeside as well as the Valley View and Harrah's casinos in Valley Center, Casino Pauma and the Pala Casino Resort and Spa.
Cohen's attorney, Deputy Public Defender David Thompson, called the informant a "lying snitch" during opening statements and on Thursday accused him of making up everything.
Cohen, 45, is charged with staring five wildfires, four along Lake Wohlford Road in Valley Center and one along state Route 67 in Lakeside. Prosecutors also have presented evidence of three other fires that burned small areas along Wildcat Canyon Road in Lakeside not far from Barona.
Cohen had been under investigation for about one year before his arrest last summer. The case against him is mostly circumstantial and based largely on video and camera surveillance which placed Cohen in the vicinity at roughly the same time small brush fires would occur along the sides of roads.
Culver said he initially wanted to testify against Cohen in the hopes of getting his sentence reduced, but — when told that was impossible — eventually decided to cooperate because of the nature of the crime. He said said he lost one house to wildfire in Northern California in years past and almost lost a second in the San Pasqual Valley more recently due to an arson fire.
He testified that Cohen told him how he tried to start fires, using matchbooks and match boxes weighted down with gravel, as well as modified bullets rigged to explode when thrown out of a car window. When investigators searched Cohen's house they found such bullets.
Cohen faces a maximum of 11 years in prison if convicted. The trial is expected to conclude by the end of next week.