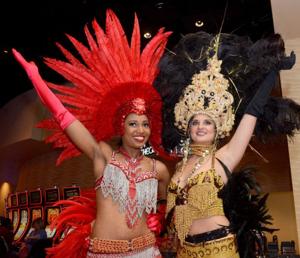 Show girls Xaviera Lysa, left, and Danielle Ringler welcome guests to Plainridge Park Casino's soft opening Monday which was for invited guests only. The grand opening is Wednesday. To see a gallery of Monday's opening, visit www.thesunchronicle.com/gallery/staff.
Posted:
Monday, June 22, 2015
PLAINVILLE
- As Gaming Commissioner James McHugh looked over a soft opening of
Plainridge Park Casino
, he explained that Massachusetts has the most restrictive gambling law in the country.
More casino profits will go into treatment and prevention of gambling addiction than in other states. Slot machines can warn customers when they hit a self-imposed spending limit. There are no free alcoholic drinks. Taxes are higher.
And, McHugh said, there will be no smoking allowed inside Plainridge or other casinos being developed in Massachusetts.
He said the ban is a public health restriction almost no other state has.
"We have more restrictions on what goes on here," he said.
The smoking-ban was a controversial move when the Legislature wrote it into a 2011 bill allowing one slot machine parlor and three full-fledged casinos.
Critics, such as state Sen. James Timilty, D-Walpole, said it would put Massachusetts at a competitive disadvantage and cause smokers to go to Rhode Island or Connecticut to gamble.
But, at the invitation-only soft opening Monday for the first of those gambling venues, some customers said they like the smoking ban.
The smoke can be so thick in out-of-state casinos they have visited that it becomes uncomfortable.
"I like that it's closer to home and there is no smoking,"George Pride of Norwell said.
"Twin River is too smoky," he said of the casino in Rhode Island.
"I like that there is no smoking. I'd rather not have smoking," said another customer who asked that he not be identified.
Customers said Plainridge made a good first impression on the trial run for Wednesday's official opening, when it will become the first expanded gambling facility in the state.
The machines are new, the facility is comfortable, there is ample nearby parking in the garage and its location in Plainville off Route 1 is convenient, visitors said.
The facility is a jolt to the senses. The music is loud, the slot machines ring and flash lights constantly, and the carpeting looks like the inside of a lava lamp with a swirl of bright red, yellow and blue.
Monday, Plainridge featured Las Vegas-style showgirls with 3-foot-high feathered headsets. There were men in athletic gear painted bronze and posing like sports statues.
But, the main attraction is the 1,250 slot machines and handful of video table games such as poker, blackjack and roulette. The table games were mostly ignored Monday afternoon, with the vast majority of the action going to the slot machines.
The slot machines are various themes to attract customers, while the electronic table games feature videos of busty women in low-cut dresses dealing the cards.
There is a Flutie's Sports Bar featuring memorabilia from football star Doug Flutie's career, a seafood restaurant and a food court with pizza, hamburgers and other fast food.
Live bands play in the Revolution Lounge.
There were some complaints about long waits for food service, but McHugh and the customers said Plainridge made a positive first impression.
"It's a vibrant, well-organized, energetic place," McHugh said.
"It's really nice," said Sue Siekiera of Pawtucket, adding that she favors it over the casinos she has been to in Connecticut and Atlantic City.
"I like the way it is set up," Pride said.
But, in one more restriction unique to Massachusetts, there will be no alcoholic drinks allowed after 1 a.m.
http://www.thesunchronicle.com/news/local_news/plainridge-park-casino-soft-opening-dazzles-invitation-only-crowd/article_330e98bf-5acb-5942-ab30-ceda72c308e7.html