Macau gambling industry review finds casino operators fulfilled all commitments
The government of Macau on Wednesday said all casino operators in its territory had fulfilled commitments agreed in initial contracts signed over a decade ago, marking the culmination of a year-long review into the impact of the gambling industry.
But the government said it would tighten regulations for junket operators - promoters that bring high-rolling gamblers to casinos - and that its regulator had started an investigation in February to ensure accounting compliance.
Macau is the world's largest gambling hub by revenue, and is the only territory in greater China where casinos are permitted. But it is so dependent on gambling - which brings in over 80 percent of government revenue - that it is trying to diversify.
Authorities have also increased regulation over the past two years, coinciding with a central government campaign against ostentatiousness among public officials. Over that time, gambling revenue has plummeted to five-year lows and monthly revenue has dropped by over half since the start of 2014.
The review was widely seen by analysts, investors and industry executives as a window into how authorities viewed the operators ahead of license renewals starting in 2020.
In the review, the government acknowledged the contribution to boosting economic growth by operators Sands China Ltd (
1928.HK
), Wynn Macau Ltd (
1128.HK
), Galaxy Entertainment Group Ltd (
0027.HK
), Melco Crown Entertainment Ltd (
MPEL.O
), SJM Holdings Ltd (
0880.HK
) and MGM China Holdings Ltd (
2282.HK
).
It said they each met commitments including creating upward mobility for employees and diversifying gaming revenue. The government said non-gaming elements generated income of 23.2 billion patacas ($2.90 billion) in 2014.
"Currently, total non-gaming spending of tourists in Macao is comparable to that of Las Vegas. However, the percentage is diluted as Macao's gross gaming revenue is far too high," the government said.
On junkets, the government said initial findings suggest increased awareness of compliance since the Gaming Inspection and Coordination Bureau (DICJ) began its investigation. It said the regulator had visited about half of junket operators - over 80 - and that the investigation will be completed in six months.
The regulator is also working with the industry to establish a central credit database to minimize credit risk. The industry is riddled with bad debt as there is no formal mechanism for claiming from gamblers in China as casino debts are illegal.
(Reporting by Farah Master; Editing by Christopher Cushing)
Macau Plans Oversight, Entry Capital Hike for Gaming Promoters
Gaming hub regulator prepares to set up credit database

Six casino operators' gambling licences to expire from 2020
Macau plans to raise capital requirements for gaming promoters and is preparing to set up a credit database to weed out risky gamblers as it increases oversight of the junkets business that brings in high-stakes players to the local casinos of Las Vegas Sands Corp. and Wynn Resorts Ltd.
Macau "intends to raise the entry threshold of junket promoters," according to a government statement discussing its interim review of the city's gambling industry since 20-year casino licenses were issued. No further details were given at a briefing Wednesday to announce results of the review. Bloomberg
reported
last month the city is working on rules including a proposal to hike capital requirements for new junket operators to 10 million patacas from the current 100,000 patacas.
The closely watched report is meant to help set policy direction for the $30 billion industry as local units of casino operators such as MGM Resorts International and Melco Crown Entertainment Group Ltd. struggle to cope with Macau's two-year gambling downturn. The city's top official in charge of its shrinking economy has said findings from the review could be used as the
basis
to consider whether licenses for the six operators will be renewed when they start to expire in 2020.
"This document could be used as some sort of general framework upon which license renewals will be discussed over the coming years, although there's nothing in the report that explicitly says this," said Grant Govertsen, an analyst at Union Gaming Group. "We haven't seen anything that suggests this will result in any changes to the status quo."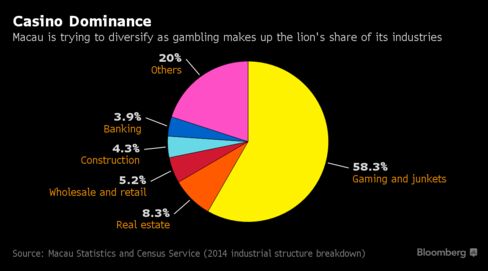 Macau casinos have been under pressure to attract more tourists after President Xi Jinping in December 2014 called on the city to diversify from gambling. Macau's economy
contracted
20.3 percent last year as casino revenue plunged amid China's slowdown and the Beijing-led anti-graft campaign which scared off VIP gamblers.
Macau's government is working to promote cross-revenue between gaming and non-gaming elements, according to the interim report, prepared by the University of Macau's
Institute
for the Study of Commercial Gaming. It also highlighted that all six operators have fulfilled concessionary requirements. The junket industry of gaming promoters needs to contend with issues including custody of client's money and credits, lax entry and exit of the market and excessive bargaining power towards gaming operators, according to the report.
Non-gaming business generated 23.2 billion patacas for Macau's operators in 2014 and tourist spending away from the tables is comparable to that of Las Vegas', the report found.
Licence Renewals
Current Macau concessions and sub-concessions which began in 2002 are set to expire in March 2020 for SJM Holdings Ltd and MGM China Holdings Ltd, and in June 2022 for the remaining four: Sands China Ltd., Wynn Macau Ltd., Galaxy Entertainment Group Ltd. and Melco Crown.
Secretary for Economy and Finance Lionel Leong said at Wednesday's briefing that the government will also have to consider the quality of life for Macau residents when considering whether to renew casino licenses. The official had said last year the government will evaluate whether operators fulfilled commitments such as developing non-gaming facilities and providing staff with training and advancement opportunities.
The proportion of local employees holding managerial jobs or higher for the operators rose to 80 percent in 2014 from 60 percent in 2008, according to the report.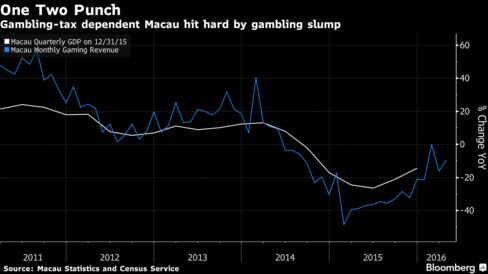 Bloomberg Intelligence's index of Macau gaming stocks rose 16 percent in the first quarter after about $46 billion of market value was wiped out last year from the city's six gambling houses.
Limit Growth
Macau wants to limit growth in the number of new gambling tables to not more than 3 percent per year through 2023, and also plans to raise the contribution of non-gaming revenue to the casino industry to above 9 percent from 6.6 percent in 2014, according to a May 6
statement
posted on Macau's government website, citing Leong.
The Chinese city, the only place in the country where casinos are legal, had 5,957 gambling tables at the end of 2015, an increase of 4.3 percent from a year earlier, according to Macau government
data
. Tax revenue from gambling contributed to 81.6 percent of Macau's public revenue, the data showed.