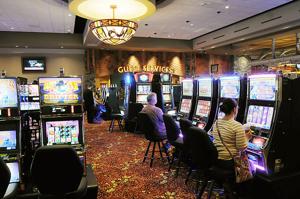 Beating the odds
Players demonstrate the slot machines at The Pokagon Band of Potawatomi Indians' Four Winds Dowagiac during media day in 2013. There appears to be a link between between casino gambling and embezzlment cases in Southwest Michigan, but there is debate over how much they're linked.
Beating the odds
Posted:
Sunday, February 21, 2016
Thousands of people visit Michigan casinos every day as a form of entertainment and socializing, with no severe impact on their lives.
For some, gambling can become an addiction, creating havoc for themselves and their families.
Jane (not her real name) began visiting casinos as a way to relieve stress and to have time away from her family, including a son with attention deficit disorder.
"I would sit for hours and play the games and not have to think about home," Jane recalled.
She had retired after 20 years in the banking industry and had extra income, and had put away money for her retirement, with plans to live in Florida during the winter.
But her gambling snowballed, and within a couple of years she had drained every account, had lost her home and car, ruined her credit and was stealing Social Security money from her brother, who is disabled.
"That was my wake-up call," said Jane, who saw a hotline number for gambling addicts on television and decided to make the call. "Here I am, broke. My retirement money is gone. It's like I'm starting my life over again."
She is attending therapy sessions with Melanie Page-Wood of the Bright Hope Counseling Center in St. Joseph and is learning about what drove her compulsive gambling and how to avoid the triggers that could start another spree.
Page-Wood, the only state-certified gambling addiction counselor in Berrien County, began working with gambling addicts four years ago, after being approached by a St. Joseph pastor whose church treasurer had embezzled from her congregation.
She has seen the devastating impact out-of-control gambling can have on a person's life. She knew one woman, a widow in her mid-70s, who lost her savings, her home and later her apartment through gambling. Every month she would take her Social Security check and blow it at a local casino.
"She was literally homeless, walking the streets of St. Joseph, sleeping in hotel lobbies," Page-Wood said.
Jane said she could have been homeless if her family hadn't taken her in. And she said it was likely she would have taken money from work if she hadn't been retired. Instead "I begged, borrowed and stole from my family," she said.
Jane said casinos make it attractive and easy to keep gambling, by offering free food, free parking, even free rooms at the hotels, as well as extending credit and allowing players to make cash advances.
Page-Wood said that, around the Detroit casinos, there are numerous billboards with the number of the gambling addiction hotline, funded in part by the casinos themselves. But these billboards are nowhere to be seen in Berrien County, she said.
She called officials in Lansing to request the billboards here, without success.
Page-Wood said she is receiving an increasing number of calls about compulsive gambling, but not as many as she would expect, considering the pastime's popularity.
Jane said that there are no Gamblers Anonymous meetings in this area, and she has been attending meetings in Kalamazoo. She is surprised that only six to eight people attend each meeting, considering the thousands crowding the casinos.
There is an area support group starting that addresses a number of problems, including gambling, as well as other addictions, depression and abuse, called Celebrate Recovery. It is being offered by Overflow Church in partnership with Fairplain Presbyterian Church, at 210 W. Napier Ave., Benton Harbor, and the group meets at 7 p.m. every Tuesday.
Page-Wood can be reached at 944-7331. Her office is on the third floor of the Box Factory for the Arts on Broad Street in St. Joseph.
The National Problem Gambling Helpline number is 1-800-522-4700. The Michigan Association of Problem Gambling helpline is 800-270-7117 and the website is
www.michapg.com
.
A spokeswoman for the owners of the Four Winds casinos said her organization is committed to curbing problem gambling.
"To ensure responsible gambling, Four Winds Casinos does everything in its power to prevent the two most common gambling problems: compulsive gambling and underage gambling," according to Paige Risser, spokeswoman for the Pokagon Band of Potawatomi Indians, owners of the Four Winds casinos. "In addition, for the safety of our guests, we voluntarily monitor alcohol consumption and provide alcohol sensitivity training to appropriate employees and managers."
The Four Winds Casinos list the following warning signs of a possible gambling problem:
• Extensive and/or frequent playing sessions.
• Remaining in the gaming area without playing or after their bankroll has been exhausted.
• Regular credit limit increase requests.
• Excessive credit card and/or cash machine use.
• Requests to borrow money from other guests and/or staff.
• Significant changes in betting pattern.
• Losing regard for health and/or hygiene.
The Mayo Clinic lists these other signs:
• Gaining a thrill from taking big gambling risks.
• Taking increasingly bigger gambling risks.
• Preoccupation with gambling.
• Reliving past gambling experiences.
• Gambling as a way to escape problems or feelings of helplessness, guilt or depression.
• Taking time from work or family life to gamble.
• Concealing or lying about gambling.
• Feeling guilt or remorse after gambling.
• Borrowing money or stealing to gamble.
• Failed efforts to cut back on gambling.