Local lottery fans average $31 per year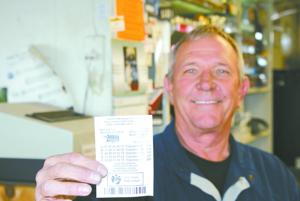 Reese
Danny Reese owns the Hit N Run 1 Stop, which led Cherokee County in lottery ticket sales with $176,719 during state fiscal year 2014.
Posted:
Wednesday, January 21, 2015
by Sean Rowley
While Cherokee County is most assuredly home to more than a few gambling addicts, it seems most of them aren't pouring money into the lottery.



A comparison of Cherokee County to other counties around Oklahoma indicated local gamblers spend less on the lottery than in other counties of similar size or income levels.
While there is research on gambling addiction, virtually none exists on lottery addiction. Most media reports about lottery addiction focus on particular addicts with horror stories.

They may include someone's spending hundreds of dollars at a time and ending up in jail on embezzlement charges, but one story highlighted a woman who claimed lottery addiction because she always spent $20 a week.

What little research does exist on lottery addiction suggests low income and less education are more likely to produce a lottery player. Age is also a factor; older people are less likely to play.

Cherokee County has one of the state's highest poverty rates. It is one of only eight Oklahoma counties with at least 24 percent of its population living below the federal poverty income threshold.

Others are Adair, LeFlore, McCurtain, Pushmataha, Okfuskee, Greer and Harmon.

When comparing data, the Daily Press could not identify a correlation between poverty rates and lottery play in Oklahoma. Correlations between population and lottery spending were also elusive.

Lottery ticket sales totaled $1,308,110 in Tahlequah during Oklahoma fiscal 2014. The Hit N Run 1 Stop had the most sales, with $176,719. The Fuel Mart in Park Hill sold another $170,231, the second most in the county. Tahlequah's second-leading seller was Reasor's, with $130,607. Cherokee County, with a population of 48,000, accumulated $1,478,341 in lottery sales. Annual lottery spending per capita was about $32.

Danny Reese, owner of Hit N Run, was neither aware nor surprised that his store led the county in lottery ticket sales.


"I definitely believe [lottery sales] are good for business," Reese said. "A person may come in to buy a ticket, and decide to buy something else, like a pop. A lot of customers come here planning to buy other items, along with their lottery ticket."

Reese did not agree with suggestions that low-income people spend more on the lottery, and said his customers are conscious of the odds.
"I'm not saying I've never seen someone buy a ticket who maybe shouldn't," he said. "But almost all the lottery customers spend small amounts. When the jackpot gets high, someone may come in with $50 or $100, but they are part of a pool with four or five people who have agreed to split if they win."
Speculating on why his store sold the county's most lottery tickets, Reese suggested the convenience store format was a draw, and that his is "a great location," on the southwest corner of Muskogee Avenue and Fourth Street.
Sales in Adair County amounted to just over $1 million. LeFlore County, with about the same population as Cherokee, sold nearly $2 million in tickets. With about 60 percent of Cherokee County's population, McCurtain County had just over $1 million.
Pushmataha County, with a population of about 11,000, sold $693,000 in lottery tickets. Okfuskee County lottery sales totaled $278,683, with a population of 12,000. With a population of 6,000, Greer County sales amounted to $520,000. With a population of less than 3,000, sales in Harmon County were more than $250,000.
Estimated annual per capita spending in Adair County was $45, $33 in McCurtain County, $40 in LeFlore County, $63 in Pushmataha County, $23 in Okfuskee County, $87 in Greer County, and $83 in Harmon County.
Texas County, with a population of 22,000, had sales of nearly $2.5 million. Guymon, the county seat, population 12,000, had $1,281,201 in lottery sales. Dizzy B's Corner Mart in Guymon led all stores with sales of $642,483. OnCue Express No. 28 in Enid was second, with $583,704. Enid is the county seat of Garfield County.
Texas and Garfield counties have moderate poverty rates of 12-14 percent. Per-capita lottery spending in Texas County is $114 per year, and $107 in Guymon. In Garfield County, it is $88 per year. Sales are $100 per capita, per year in Enid.
If population and poverty are not accurate indicators of lottery spending, other factors may be in play. Cherokee County gamblers may be less inclined to play the lottery due to proximity to casinos. Some sales may be transitory, purchased by people visiting, or crossing state borders.


Dr. Kenny Paris, chair of the Department of Psychology and Counseling at Northeastern State University, said an unequivocal finding of gambling research is that cases of addiction increase with availability.

"If there are more opportunities to gamble, then more problems with gambling behavior follow closely behind," Paris said. "They really go hand-in-hand. Like any addiction, it knows no boundaries. It can affect rich, poor, black, white – anybody. But research does suggest that those with less education and less available funds are more likely to engage in gambling."
However, Paris noted there is less data on lottery addiction, and said he sees it less frequently than addictions to online gambling sites, sports betting, and gaming.
"I don't hear of nearly as many people struggling with lottery addiction," he said. "It could be less prevalent because there isn't that immediate gratification often associated with other forms of gambling. You buy a ticket on Monday or Tuesday and wait until Wednesday or Saturday for the drawing."
Oklahoma voters approved the lottery a decade ago and the first scratch tickets were sold in late 2005. More than a half-billion dollars have been generated for state education.


While a $70 million annual windfall helps schools, it is not the panacea touted by supporters at the turn of the century, and income is less than half what was projected.


The Oklahoma lottery still has enemies, especially among Republicans, who now control both houses of the legislature. Detractors say the income doesn't justify the problems.
Supporters say $70 million a year is justification, and that the lottery operates under numerous operational and advertising restrictions. They say the minimum profit regulation demanding 35 percent go to education reduces chances to win. It also reduces payouts, and hence, sales.
Eight states have reported sales and income increases that easily exceeded their reductions in mandatory profit.


http://www.tahlequahdailypress.com/news/features/local-lottery-fans-average-per-year/article_8fafceb2-a1ad-11e4-97cd-47f4225bfef6.html